Laser World of Photonics, Munich 2022
Published: 6 May 2022
QuantIC attended Laser World of Photonics 2022 in Munich last week, joining the international photonics community for a successful week showcasing quantum imaging research, representing the UK National Quantum Technology Programme, and making valuable connections.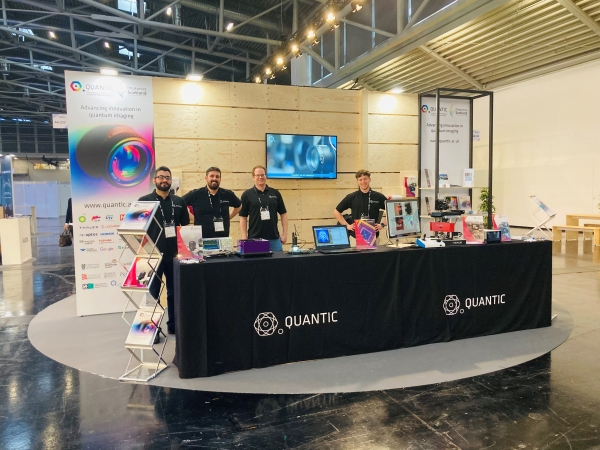 Laser World of Photonics is Europe's leading trade fair and this year saw the launch of the WORLD OF QUANTUM, providing a dedicated arena for the quantum community and highlighting the central role quantum technologies could play in areas such as medical technology, automated transport and industrial manufacturing.
Sharing a stand with Photonics Scotland, QuantIC showcased quantum imaging excellence from across the UK. The team demonstrated a range of new imaging technology; GasSight for methane imaging, high precision low noise imaging for life sciences, LED display that can process one million images per second, and the newest QuantIC microscope that is 50 times more powerful than current detectors.
Throughout the week QuantIC highlighted the success of the £1billion UK National Quantum Technology Programme, showcasing how the UK Government's model has facilitated the successful commercialisation of quantum imaging technology. Fellow exhibitors, Horiba and Thorlabs provided examples of their technology FLIMera and Thorlabs correlated photon pair source tool (SPDC810), both developed in partnership with QuantIC.
QuantIC Director Sara Diegoli said "Laser World of Photonics is an excellent way to showcase the world-leading research that our academic groups are delivering and the commercial achievements of the UK National Quantum Technology Programme on a global scale. There is no replacement for face-to-face conversations and this event brings the whole of the photonics community together for a week of collaboration and engagement."
For more information on QuantIC's imaging technology and how to get involved, explore www.quantic.ac.uk
---
First published: 6 May 2022