Demystifying the Publishing Process
Published: 24 April 2023
Workshop on the publication process at Optica Publishing Group journals.
The QuantIC team welcomed Optica Publishing Group to the ARC (Advanced Research Centre) to host an author workshop on the publication process, primarily for early career researchers.
Optica Publishing Group has an extensive portfolio and is home to the largest and most-cited collection of peer-reviewed optics and photonics content.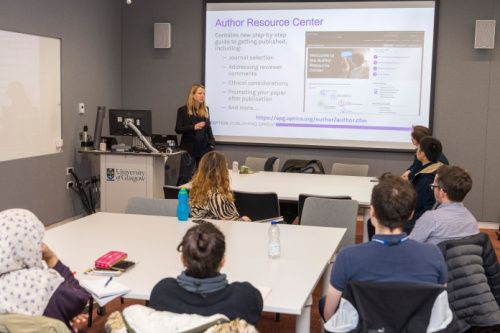 The workshop gave insights from editors Professor Miles Padgett and Dr Alison Taylor on writing for and submitting to scientific journals and navigating the peer review process.
Professor Miles Padgett, Principal Investigator at QuantIC and Associate Editor, Optica, said "We were delighted to welcome the Optica Publishing Group team to Glasgow to share their insights on making the publishing process less daunting for researchers. The workshop helped to share best practice, encourage collegiality, and provide hands-on advice on writing an effective abstract."
Dr Alison Taylor Executive Editor at Optica Publishing Group said, "Writing for academic journals is highly competitive and it was a pleasure to welcome so many researchers to the session to share our advice on getting published. We were delighted to present information from our Author Resource Centre and our step-by-step guide to publishing, which gives users advice on all stages of the publication process, including journal selection, addressing reviewer comments, and ethical considerations."
---
First published: 24 April 2023