SPIE Photonics West, San Francisco, California.
Published: 10 February 2022
QuantIC travelled to SPIE Photonics West in San Francisco for the largest annual photonics conference and exhibition in the world - bringing together 10,000 delegates for a week of world leading presentations, seminars, and events.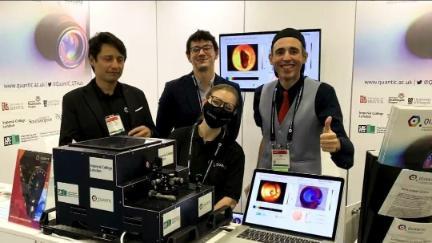 Hosting a stand in partnership with Technology Scotland & Photonics Scotland, QuantIC showcased quantum imaging excellence from across the UK. The team demonstrated a range of new imaging technology; GasSight for methane imaging, components, detectors, and the newest QuantIC imaging demonstrator for seeing with undetected light.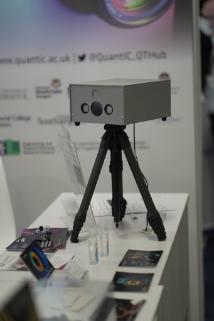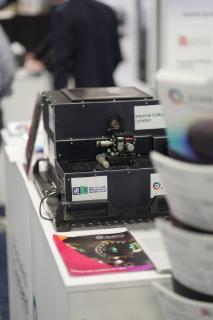 This year SPIE recognised the growing importance of quantum technologies to the existing photonics market as well as future markets with Quantum West - a full day deciated to keynote speakers, panel discussions and networking on the commericalisation of quantum technology. QuantIC helped shape this programme, with Director Sara Diegoli as a organising panel member, and speaker at the UK Department of International Trade opening breakfast.
"It was great to be able to participate in a face-to-face conference and get back to networking with some of our suppliers, UK and USA government representatives, and potential new industry partners. SPIE Photonics West has triggered a number of new relationships and opportunities for QuantIC and it is always worthwhile making the journey from the UK" – Sara Diegoli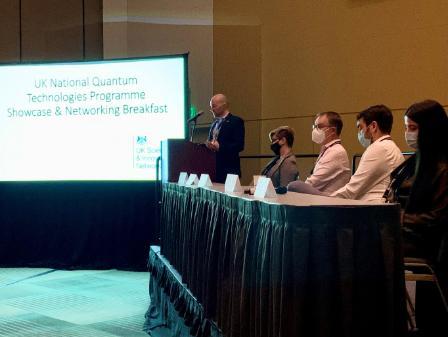 Throughout the week QuantIC represented the wider UK National Quantum Technology Programme at several events hosted by the UK Department of International Trade, SPIE's PRISM Awards, and technical sessions where Professor Miles Padgett, QuantIC's Principal Investigator presented his work on 3D imaging through a single fibre.

SPIE continues the world's largest photonics conference next year at Photonics West 2023 on 28 January-2 February at the Moscone Centre in San Francisco with a call for papers opening in Spring of 2022. Meanwhile, QuantIC continues to represent the strength of UK quantum technologies in business and academia on the world stage.
For more information on QuantIC's imaging technology and how to be involved, explore our website.
---
First published: 10 February 2022